by Nana Bee
A lot of tales have talked about an invisible thread between people, pulling up a chance to meet occasionally. So that serendipity just like fate happens inevitably as predestined. There's a similar concept in many societies of diffrernt culture background. According to Einstein's description, time is rotating and reincarnating like Mobius ring, which seems to explain that predestined people seem to meet on this line, sometimes very close, sometimes very far. Now here comes quantum theory whitch gives an explanation of energy entanglement about relationship One day it will help a colliding on the road of fate.
I have romantic feelings regarding this matter, however, not that pessimistically unable to escape fate but the optimistically interpret by science like quantum physics。I think what kind of people we will meet is totally related to our view of life. Because of the pro and con in life, we can circle up people of the same quality. This is the starting point of serendipity!
I love arts. One summer afternoon under thunderstorm, I was spending my time in an workshop held in the Red Gate Gallery. After storm away and sun up, numerous people came in the gallery gradually. Among crowd, four tourist-looked people came in. Maybe it is the impression in which a lady with charming temperament and a gentleman with a stylish hat standing beside her triggered me curiosity. So I smiled and said hello to them. They talked with each other in Japanese and inquired about the details of the artworks displayed on the wall Because I knew well about the artists in this exhibition, I couldn't stop myself cutting in   spontaneously to explain the features of these works in Chinese . After listening to these Japanese friends and their conversation with translators , I couldn't stop  myself again to answer back in Japanese. All of a sudden, this feedback aroused their curiosity on me, I believed. Just then, the discreet faces of them relaxed, making our conversation much easier.
It turns out that the guest lady is the artist from Japan, Ms. Sachie Yoshino escorted by her husband Mr. Mickie Yoshino and local friends. But when I heard the word "Mickie", I immediately thought of Mickey Mouse. His cheerful smile meant my joke bothering nothing to them. On the contrast, Ms. Sachie told me directly that she could also be called "Minnie". It's really a lovely couple. I can't help answering in Japanese again. In a few minutes, we were like old friends who had known each other for a long time. "Minnie" also gave me a brochure with her autographic,. We exchanged contact information before leaving the gallery, I even suspected that I had met them hundreds of years ago, which was not strange at all.
Later, I learned that Mr. Yoshino was the head of the rock band "Godiego", the first rock band coming in China and doing live show back to 1980. Their stage performance has influenced the first generation of those Chinese rockers, such as "Tang Dynasty" and "Black Leopard", who were still young guys at that time, watching and dancing in the crowd along the sound wave.
After that, I kept in touch with Mr. Yoshino and his wife, sharing works and exchanging some creative experience. During the pandemic, the online exhibition I projected also invited their husband-and-wife collaboration, painting with music to show the metaphysical relationship.
I read a Japanese report about their love story. The graceful Sachie was also a fan of Godiego when she was a young girl. So she kept tracks with the band and got an acquaintance with Mickie. According to the report said, Mickie mentioned that when first time seeing Sachie who was still a student of an art uiversity, he felt that she was particularly beautiful. A few years later, Mickie wanted to try something new on his gala to combine music and paintings on stage, he thought of Sachie. At this time, Sachie finished her degree in art and held an art exhibition in South Korea. Mickie went to South Korea and explained that he wanted to combine painting and music for an innovative performance. They had a good talk. Mickie also proposed some suggestions that Sachie could move her art career back to Japan for further development. After that, Sachie's paintings appeared in the show, and returned to Japan to start her art career. Soon, they got married. On the road of life, they created different forms of art and wrote a new chapter for art of life.
Tell such a romantic love story, maybe someone will think of things such as fate, destiny or serendipity.
After reading this report from Japan, I am particularly concerned about that art and creation had been the cornerstone of their normal life mentioned both by Sachie and Mickie. They appreciate each other's works, objectively give some opinions, or share their inner feelings, so that their works can be more completed. This passage makes me feel that the common interests set up the antenna of fate, in the art of life, let the people who can resonate with the same frequency approach closer slowly.
When I was a girl, I loved rock music as much as Sachie,. I also liked watching Japanese dramas, so I learned Japanese. Because I like art, I am immersed in this field. Because I love writing, I have been a best-selling writer for a while. However, these interests and preferences also led to my view of life, so that I had the opportunity to become friends of them have the opportunity to build up a larger cognitive circle together, and let more people with similar frequencies have the opportunity to get together.
Do All of these things mean lots to me? I will say that it allows good friends to know each other, not just for us to communicate and establish emotions, but to inspire more wonderful sparks of life through such encounters, just like co creating more beautiful works, and sharing with contemporary or future.
I want to thank myself for my interest and passion in learning, which gives me the opportunity to build such antenna and meet Mickie, a rock music elder, and Sachie, an outstanding artist. Thanks to them for leading me to another animator Shuichi Nakahara. Scored by Mickie Yoshino, the "Motion Paintings" Shuichi created for Sachie's solo exhibition "dream of puppets" showed another way of artistic expression. When I saw this short, it reminded me the feeling to my Cookie House again.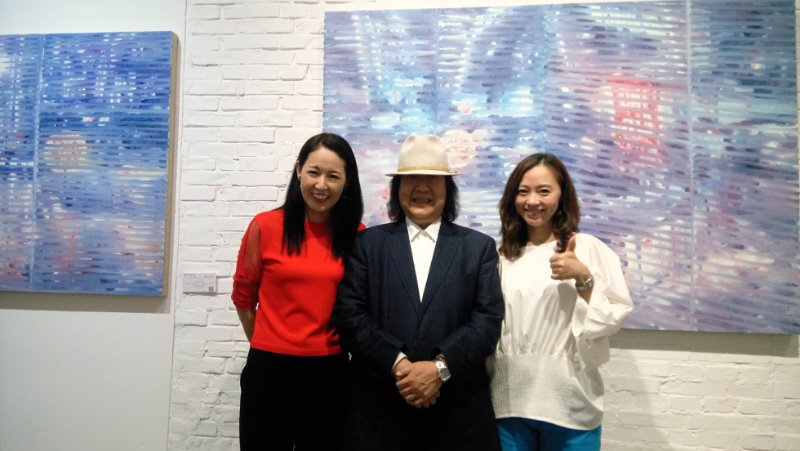 So, what is the serendipitous antenna? Before exploring this question, it's better to find the interest and preference that can make you focus on enthusiastically. The universe will open channels for you, set up path of fate, meet more like-minded friends, and create meaning and happiness in the life id art.
Welcome to exchange thought with me. If you want to participate or work with art world, you can also contact us for further advice.